From his 40+ million views across social media to his interviews on international television and NPR's Weekend Edition, Billboard-charting saxophonist Derek Brown and his one-of-a-kind solo "BEATBoX SAX" project has been exploding across the world music scene. After performing in all 50 United States and over 30 countries, Derek is taking his game-changing innovations on the saxophone to the big band setting! 
Derek's 3rd studio album, all composed and arranged by Derek himself, features nine high-energy tunes, blending Derek's love for exciting improvisation with the drive of an arena rock concert, all played by Michigan's finest: the Holland Concert Jazz Orchestra. 
Recorded pre-pandemic at Derek's alma mater Hope College on Feb 21-22, 20, Derek enlisted the help of Austrian Audio, who supplied microphones and headphones for the orchestra. 
Brown states, "My first two studio albums featured just me, solo. But for this album I decided to throw everything in, with a full 17-piece jazz orchestra, organ, string quartet, Brazilian drumming ensemble, and more. Thanks to all these extra musicians and excellent gear from Austrian Audio, I can now create music that's as epic and inspirational as I've dreamed!" 
Release date: September 10, 2020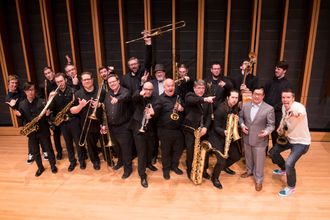 "All Figured Out" Album Liner Notes 
All songs composed/arranged by Derek Brown and performed by the Holland Concert Jazz Orchestra unless noted: 
1. Prelude 
- Featuring members of the Hope College Orchestra 
2. Human Error 
- Solos: Derek Brown, Madison George 
3. Again 
- Solos: Jordan VanHemert, Derek Brown 
4. A Simple Gesture 
- Solos: Mark Wells, Derek Brown, Andrew DePree 
5. Vantage Point 
- Solos: Derek Brown and Clif Metcalf 
6. All Figured Out 
- Vocals/Lyrics: Derek Brown. Solos: Tim Grieme, Clif Metcalf, Derek Brown 
7. The Pursuit 
- With members of the Hope College Orchestra. Solos: Derek Brown and Caleb Elzinga, Madison George 
8. Hoping for the Best 
- Solos: Derek Brown 
9. The Good Fight 
- Featuring the Hope College Jazz Arts Collective and Brazilian Drumming Ensemble. Solos: Derek Brown 
"When you listen to Derek Brown play the sax, you figure this guy has got to be using all kinds of loops and overdubs and electronic pyrotechnics. And then when you figure out it's just him playing live, it is a little bit hard to fathom." 
 -NPR's Weekend Edition- (full interview here)
The old jazz cats (of course including the lady cats!) used to walk the bar, come out into the audience, show some fancy footwork - dance moves… whatever it took to get folks to pay attention! A gimmick… is sometimes the best way to accomplish that. The point has always been & continues to be: "What do you have to say? How much of your heart may we take a peak into? Who are you, and can you answer that without 'saying' anything? How deep is your commitment to the ART of music, but also to bringing a smile to somebody who's having it hard?" Derek Brown got our attention with some pretty outrageous (and artfully performed) antics! And now he answers the above questions in rare & exquisite style on All Figured Out, replete with some very impressive playing and lovely arrangements. We hear you Brother! 
Kirk Whalum - Saxophonist